As a consequence of ongoing dialogue with our customers and partners, CENIC laboratory identified the principal difficulties in respect to the technical report which is part of the documents required for registration by ANVISA, i.e.:
. Failure to submit tests demonstrating product safety and efficiency;
. Failure to carry out worst-case tests;
. Submit partial tests without critical assessment;
. Absence of critical analysis.
As a result of these difficulties, CENIC laboratory - through its new business unit ATRIO – started offering among other services test routes and result based critical analysis.
Choosing the right tests and making a correct critical analysis minimize the difficulties in reaching the great final goal: product registration.
Let us know your regulatory requirement. We shall dedicate our fullest attention to ensuring your regulatory success with ANVISA. This email address is being protected from spambots. You need JavaScript enabled to view it. / 16 3371-5490
Test Routes
Test routes
are paths organized in such a way as to help saving financial resources and time when defining tests realized to prove product safety and efficiency. They contain test standards applied by each regulatory body (ASTM, ISO, NBR) for every single orthopaedic implant, including specification of equivalence among these standards .
The routes define tests which relate to the product in a more direct way, thus excluding the risk of omitting tests or realizing similar tests of different regulatory bodies.
Choosing the right tests and making a correct critical analysis minimize the difficulties of reaching the great final goal: product registration.
To better understand the functioning of all this please refer to the test route below required for a spinal implant assembly :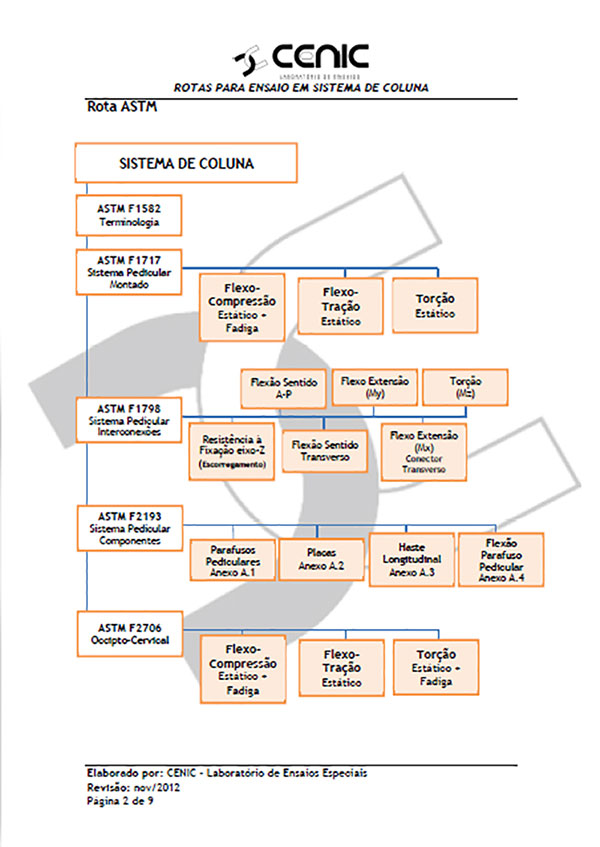 Critical analysis
What does it mean and what is it good for?
As a rule, the regulatory agencies require that safety and effectiveness of an orthopedic implant be substantiated. Thus, manufacturers and importers responsible for the registration of their product, besides submitting test results must also interpret and place in context results obtained, demonstrating by means of a critical analysis whether the product is safe and effective.
Every regulatory agency has its peculiarities, but all of them expect some discussion of test results. Said discussion may be based on comparisons with results of scientific work, literature of technical developments, biomechanical calculations and other sources of information.
CLARIFICATION REGARDING THE PERSON RESPONSIBLE FOR THE CRITICAL ANALYSIS

The technical regulation annexed to RDC nbr. 185 of 10/22/01 determines in part 3, item 5b that information as described in enclosures III.A, III.B and III.C must be declared and signed by the technician responsible.
Annex III.C defines the information of the technical report. Item 1.6 of annex III.C deals more specifically with the demonstration of safety and effectiveness to be conducted based on RDC nbr. 56/2001, which latter sets down the essential rules for safety and effectiveness applicable to healthcare products.
Declaring and signing statements based on test results to the effect that the product is safe and effective, is a tool used commonly in proof of safety and effectiveness. Therefore, as defined by RDC nbr. 185 the competence to make statements is attributed to the technician responsible and not to the test laboratory.